Great Plains Home » Customer Service »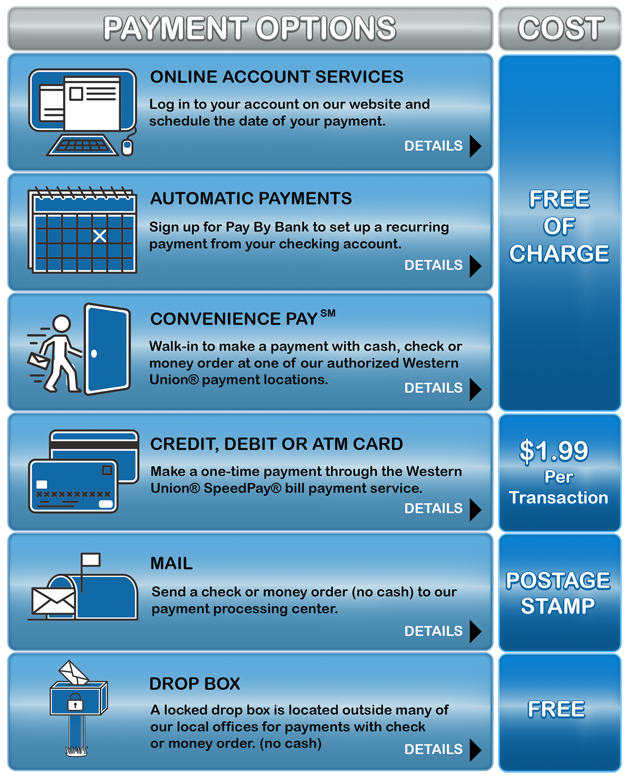 Payment Options
Great Plains Natural Gas offers many convenient payment options designed to make your bill paying as easy as possible.
​
Online Account Services: Make FREE payments online from your active U.S. checking account. It's an easy and secure way to view and/or pay your bill free of charge online 24/7. You can also save time, trees, postage and gasoline by switching to paperless statements and managing your account online. Our online account services will give you the flexibility of reviewing your account information and monitoring your monthly usage history throughout the year. Access your account 24 hours a day for detailed information, usage statistics, a help center and more. To register, navigate to our Online Account Services portal.
Automatic Payments: : Automatically pay your bill each month by having Great Plains Natural Gas Co. withdraw your pre-authorized payment from your financial institution on your bill's due date, which is shown on your bill stub. Enroll electronically by logging in to your account and clicking the button "Automatic Payments", located on the Payment Center page.


Convenience Pay: To pay your Great Plains bill at an area pay station, take your bill to a nearby Western Union® Convenience Pay location. Pay your utility bill with cash or check and there is no charge for the service. Find an up-to-date list of Convenience Pay locations.
Credit, Debit or ATM Card: Payments can be made by phone or online anytime with electronic transfer from your checking account. Use your Credit card, debit card or an electronic check through Western Union® Speedpay® Bill Payment Service. Western Union® is an independent service provider and charges a $​1.9​9 fee per transaction. ATM or Debit cards with the "NYCE", "PULSE®", or "STAR®" logo can be used for payment. Visa® , MasterCard® , ​American Express® , or Discover® credit cards can be used as well. Payments made after 4 p.m. Central Time will be processed the following business day.
Pay-by-phone: A credit/debit card payment can be initiated by calling 1-866-364-5829 and following the prompts. Be sure to have your 11-digit account number ready.
Online:Payments can be made online through the Speedpay® website. Be sure to have your 11-digit account number ready.
Recurring Monthly Payments: Schedule recurring monthly payments through Western Union® Speedpay®. This option allows you the flexibility to schedule a set number of payments or select a date for recurring payments to end. Learn more about how the Recurring Payment Program works.
Mail: Please send your payment with the bill stub provided to:
Great Plains Natural Gas Co.
Attn: Customer Support
P.O. Box 5600
Bismarck, ND 58506-5600
Drop Boxes: Great Plains Natural Gas has authorized drop boxes throughout its service territory. Do not deposit cash in our payment drop boxes. Paying by personal check or money order is much more secure and makes the possibility of missing payments less likely. Please allow 5 business days for payment processing and be sure to include the bill stub with the payment.
Please Note: After the payment is made, if you are paying on a Disconnection of Service Notice, it may be necessary to contact Great Plains Natural Gas at 877-267-4764 to let us know that payment has been made.
Balanced Billing
Balanced Billing provides customers a way to avoid the highs and lows associated with normal monthly billing. This plan helps take the guesswork out of budgeting for your utility bills.