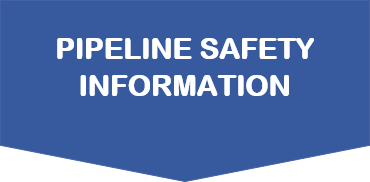 Our goal is to provide safe, reliable natural gas service to our customers and ensure the safety of people living and working near our natural gas pipelines. This document is an important part of our ongoing communication plan to increase awareness of pipeline safety. Please take the time to read this critical information.
Natural Gas
The popular choice … Natural gas is the most popular energy for home heating. Its uses are expanding to many other applications due to its ease of use and positive environmental qualities. Natural gas provides about 24 percent of all the energy used in the United States and natural gas utilities serve more than 65 million residential, commercial and industrial customers.
The safest choice … According to National Transportation Safety Board statistics, natural gas pipelines are the safest method of energy transportation. Intermountain Gas Company uses the latest technology, security and industry practices to monitor pipelines and maintain service and safety. Intermountain Gas executes many programs to ensure your safety: Design and construction monitoring 24 hours a day, seven days a week; Integrity management: inspection and patrol training; public awareness coordination; and communication with police and fire officials.
The safety commitment … It is extremely unlikely that a natural gas leak will occur. The information provided here will prepare you in the event of an occurrence. These safety guidelines will provide you with important information to help you avoid dangerous activity and help you recognize and respond to a natural gas leak. Protecting you, your property and the environment is our commitment.
---
Leak Recognition and Response
A gas leak is usually recognized by smell, sight or sound:
SIGHT – A dust cloud, mist, fog, bubbles in standing water, or vegetation that appears to be dead or dying for no apparent reason.
SOUND – An unusual noise like roaring, hissing or whistling.
SMELL – The distinctive gaseous odor is an odorant added to natural gas and has a smell similar to rotten eggs or a recently lit match.
What should you do if you suspect a leak – Leaking natural gas is dangerous. It can cause a fire or explosion.
MOVE –  to a safe location.
CALL –  from a safe location call your local emergency responders at 911 and Great Plains Natural Gas at: 877-267-4764
DO NOT –  strike a match, or switch anything on or off, including garage door openers or a flash light.
DO NOT –  use a phone in the home.
DO NOT –  attempt to extinguish any pipeline fire that may start.
DO NOT –  attempt to operate pipeline valves.
Keep clear until the fire department or Intermountain Gas personnel say it's safe to return.
---
Pipeline Markers
Pipeline markers are an important safety precaution. Since pipelines are buried underground, pipeline markers are used to show the approximate location and identify the companies that own and operate them. These markers are found where a pipeline intersects a street, highway or railway. The pipeline may not follow a straight course between markers.
They are used to designate the general route of the pipeline.  Be aware of any pipeline markers in your neighborhood; write down the natural gas operator's name and phone number in case of an emergency.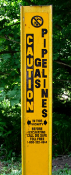 Pipeline markers provide critical information in keeping you safe.
Markers DO NOT show:  the depth of, the number of and the exact location of the pipeline.
Markers DO show: the approximate location of the pipeline, the material being transported, the natural gas operator and the operator's emergency phone number.
Pipeline Operator's Actions During an Emergency:
The pipeline operator, in cooperation with local emergency responders, will immediately dispatch personnel to the site to help handle the emergency and to provide information to public safety officials to aid their response to the emergency. They also will take the necessary operating actions such as closing and opening valves to minimize the impact of the situation.